To fix these environmental messes, start back at the beginning. Build a good foundation and, in turn, build a nice ecosystem, i.e., meadow, field of flowers, etc. (meaning, 'Get rid of the weeds first!')
In dry, open, sunny areas in the central coast ranges of California, the habitat is populated by very delicate, annual wildflowers and vulnerable to invasion by alien plant species, or WEEDS. It is very difficult to remove the alien plants without hurting the native plants. The alien plants are also annuals, and out compete the native plants very well, one reason being there are no controls (diseases and pests) on them as there would be in an area in which they evolved. Digging or hoeing out the alien plants, leaves a perfect, fluffed-up seed bed for the alien plants seed, breaks up the underground network of microorganisms, and allows nutrients and water to escape, and, so, highly encourages the growth of the alien plants over the growth of the native plants. Yes, even the annual native wildflowers are associated with underground microorganisms!! Once the alien plants have invaded the area in a major way and are throughout the site, the difficulty of removing them is almost impossible. You can kill the annual weedy, alien grasses with herbicide specific to grasses. This then leaves the broad-leaved weeds which you can spot spray with herbicide, or, if the area is small, early in the season, you can trim off below the crown and remove to the dump. If the area is large, you may have to try other options; see the Weed Control page.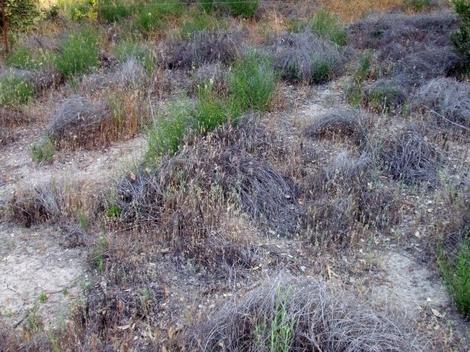 No matter how much customers are warned about weeds they still seem surprised when their field of flowers (dreams) looks just like a field of weeds. On the other hand, many yards, landscapes, hillsides, 'restorations' that are as much as 95% weeds are proclaimed a beautiful 'meadow' (a cow's dream field?) by folks that have never seen a native site. If possible find out what the pioneer wildflowers are for your area and use those as the larger part of your wildflower mix.