Bombus melanopygus edwardsii

Bombus edwardsii is a subspecies of Bombus melanopygus that lives is most of California and Southern Oregon. Bombus melanopygus lives along the border of Northern California up into Alaska and across into Alberta and down into Utah.
Bombus melanopygus edwardsii is a vary early Bumblebee that works furiously polluting Arctostaphylos species, Ribes species, (Native Gooseberries and Currants) and some Cultivated Plum Varieties.
On rainy days in January and February, this little bee is the buzzer that's flying around trying to find a dry flower. They seem to get quite irritated, irrationally so, but , with only a million or so brain cells they've not adapted to rain forming drops at the end of the flower tubes on Manzanitas and many Ribes.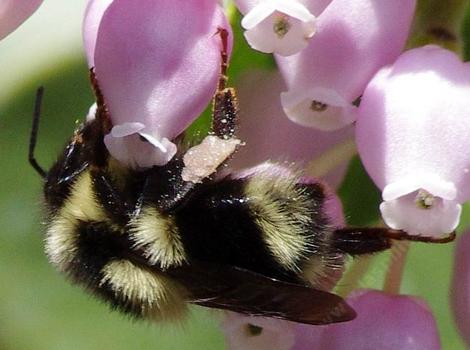 "edwardsii" color form of Bumble Bee - Bombus melanopygus on Arctostaphylos Austin Griffiths